Riot Grrrls, MCA Chicago
"Riot Grrrls is a celebration of female artists who are making bold and adventurous abstract paintings. Sexism continues to pervade the art world; male artists still garner higher prices for their work and are disproportionately represented in exhibitions. In a challenge to the boys' club sensibility that has historically shaped abstract painting, the female painters featured in the exhibition achieve a level of mastery, innovation, and chutzpah that doesn't need external validation.
The exhibition presents ten pioneering painters, including Mary Heilmann and subsequent leaders Charline von Heyl, Judy Ledgerwood, and Joyce Pensato, along with a younger group of rebels including Molly Zuckerman-Hartung and Amy Feldman."
MCA Chicago
220 E Chicago Ave
Chicago, IL 60611
Dec 15, 2016–Jun 18, 2017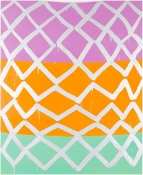 ,