Remembrancer Project Space installation by Daniel Giles
Feb 10 – Apr 02, 2017
Opening Reception Feb 10 6-10pm
During his January 2017 artist residency at Sector 2337, Daniel Giles developed the solo exhibition titled "Remembrancer". In this project, Giles explores the African-American folk lore of "the laughing barrel", where blacks once were compelled to hide their laughter in white-dominated public spaces in the antebellum south. Through sculpture, video and sound, Giles evokes the presence of the laughing barrel alongside contemporary media imagery and sound recordings compiled during his time as artist-inresidence at Sector 2337.
Message from Artist;
I would love to see you at the opening of my upcoming solo exhibition at Sector 2337, the result of my time as artist-in-residence this winter. With the world and our country as they are right now, I feel this work is as urgent in my mind as it ever was, so I am eager to share it with my community.
peace and love,
Danny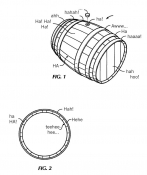 ,