Lauren Pond Wins 2016 First Book Prize
Congratulations to Lauren Pond, a photographer based in Columbus, Ohio, who was selected by curator Peter Barberie of the Philadelphia Museum of Art to win the eighth biennial First Book Prize in Photography for her color series Test of Faith that document, as Pond writes, "a family of Pentecostal Holiness serpent handlers that I have photographed since 2011.
First Book Prize judge Peter Barberie, Brodsky Curator of Photographs, Alfred Stieglitz Center, at the Philadelphia Museum of Art selected Pond's photographs to win from a group of nine finalists because her "long-term documentation of the Wolford family emerged as a unique, cogent, and powerful topic for publication. Lauren Pond plunges us into the hothouse atmosphere of their faith. Through her photographs I can almost feel the physical strain of Mack's worship, and I long to hear the song that his mother, Snook, sings as he accompanies her on guitar. Who are these purposeful, vibrant people so different from myself? Test of Faith commands this question and prompts me to consider the basis and limitations of my own worldview."
Pond receives a grant of $3,000, inclusion in a website devoted to presenting the work of the prizewinners, and publication of a book of photography. Barberie will write the introduction, and Pond an afterword, to the book, which is forthcoming in November 2017 from Duke University Pressin association with CDS Books of the Center for Documentary Studies at Duke University. Pond will also have a solo exhibition in Duke's Rubenstein Library Photography Gallery, and the photographs will then be placed in the library's Archive of Documentary Arts.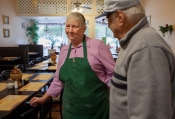 ,