Jessie Mott: A Wish to Repair
Jessie Mott returns to the Art Center for her first solo exhibition in the space, A Wish to Repair. The exhibition explores themes of intimacy, desire, beauty, anxiety and shame through works on paper, site- specific wall paintings and the debut of a new collaboration with artist and writer Steve Reinke. A Wish to Repair builds upon Mott's previous work including her and Reinke's collaboration which uses past animations of Mott's imagery coupled with the voices of friends accompanied with the music of Madonna. Despite its bright colors and kitsch aesthetic, the work is somber, dealing with existential crises where creatures pine and mourn for lost lovers, finding only brutal antagonization in return. More than 50 new works on paper will also be exhibited along side and embedded in a large wall painting to create an immersive experience which will leave the viewer pondering the same questions of meaning, value and love.
Mott, a graduate of Northwestern's MFA program, has emerged as an artist to watch, not just in Chicago and the surrounding region but also internationally. Following the completion of her MFA in 2009, Mott has continued to grow as an artist,participating in prestigious group and solo shows including Hyde Park Art Center's 2010 edition of Ground Floor, which highlights the most talented artists coming out of Chicago's MFA programs, and the 2014 Whitney Biennial.
Date/Location,
January 22, 2017 – April 23, 2017
Hyde Park Art Center
5020 S. Cornell Avenue Chicago, IL 60615
Phone: 773-324-5520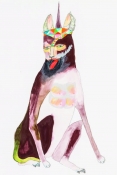 ,