HB no 6 / HORS PAGE
EXHIBITION /
JANUARY 12 TO FEBRUARY 18, 2017
OPENING /
THURSDAY, JANUARY 12, 8PM
(PRECEDED BY THE LAUNCH OF TWO PUBLICATIONS AT 7PM)
CLOSING EVENT /
ROUND TABLE
PERFORMANCE BY ADRIAN NORVID
HB NO5 MAGAZINE LAUNCH
SATURDAY, FEBRUARY 18, 3PM TO 7PM
HB strives to present current drawing practices in a printed magazine format; a kind of exhibition on paper where works unfold, come together and interact within its pages. First published in 2013 and meticulously assembled by a team of curators, HB presents an impressive selection of emerging and established artists from Québec, Canada and beyond.

Following its two thematic issues (No. 4 Erotica, and the soon to be released No. 5 Structures), this sixth opus looks at drawing practices that reach beyond the page and which are largely "un-representable" in published form. The selected works demonstrate obvious challenges in terms of print reproduction, where reducing them to a single page robs them of their spatial, temporal, immersive and interactive qualities. These works may reveal the limitations of the printed format, but not those of HB's curatorial model, which, once transposed to the exhibition space of the gallery, manages to maintain its coherence, flair and biting wit. While the curated works in this exhibition are not entirely representative of the strategies and approaches used by artists who draw off the page, they express a unique vision that reflects the spirit of HB. As such, the exhibition is presented as a kind of magazine issue in and of itself, available for a limited time within a limited space.

Digital drawing and 3D rendering are well represented in the practices of the ten artists featured here, many of whom work in animation, such as Amy Lockhart. In her work, parallel mini-narratives develop through irreverent, crude and jolting animations that recall the sonic universe of 8-bit video games. In Jill, by Lilli Carré, a female figure, apparently deprived of all free will, shape-shifts and collapses before our eyes in response to the comments and commands of an off-camera narrator. The theme of deconstruction is also present in Barry Doupé's piece titled Whaty. Abstract human faces form and dissolve, appearing and disappearing as coloured shapes that melt away the moment they become recognizable. Scottish duo Dennis and Debbie Club use computer-generated imagery (CGI) to create complex, detailed and surrealistic worlds that seek to sublimate the traumatic experience of grief and to provoke a sensorially immersive experience.
LILLI CARRÉ
Lilli Carré currently lives and works in Los Angeles. Her animated films have shown in festivals throughout the US and abroad, including the Sundance Film Festival, the Edinburgh International Film Festival, The Ann Arbor Film Festival and the International Festival Rotterdam. In 2010 she co-founded the Eyeworks Festival of Experimental Animation, which is held annually in Chicago, LA, and NYC. Her comics and illustration work has appeared in the New Yorker, The New York Times and Best American Comics. Solo exhibitions of her work were shown at the Museum of Contemporary Art Chicago, Western Exhibitions, and the Columbus Museum of Art. She has an MFA in Art Theory & Practice from Northwestern University and a BFA from The School of the Art Institute of Chicago.
lillicarre.com/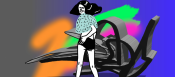 ,