Eyeworks Festival
Eyeworks is an invitational festival focusing on abstract animation and unconventional character animation. Festival programs showcase outstanding experimental animation of all sorts, and include classic films and new works.

Eyeworks concentrates on works made by individual artists, drawing on the lineage of avant-garde cinema as well as the tradition of classic character animation and cartooning. The aim of Eyeworks is to present works that engage the enormous potential inherent in the art form of animation.

The Eyeworks Festival of Experimental Animation was founded in 2010, and is based in Los Angeles. David OReilly, Lori Damiano, Nancy Andrews, Caleb Wood, Takeshi Murata, and Martin Arnold have been featured as festival guests. In addition to the annual fall festival, Eyeworks has presented screenings in Sweden, Finland, France, Poland, and Croatia; as part of the Animation Block Party, Brooklyn Comics & Graphics Festival, and Autoptic; and at CalArts, Virginia Commonwealth University, and at Dartmouth College.
Festival directors: Alexander Stewart and Lilli Carré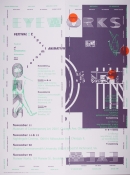 ,