Brendan Fernandes receives Tiffany Foundation Award
ATP Professor Brendan Fernandes was recently nominated and selected as a recipient of the Louis Comfort Tiffany Foundation Award. Every two years, nominees are reviewed by a jury composed of artists, critics, museum professionals, and representation from the Foundation's Board of Trustees. Among this year's jurors were artists Cindy Sherman and Kerry James Marshall. Awardees are selected for their talent and individual artistic strength. It is the intention of the Foundation to support artists whose work shows promise, but who have not yet received widespread critical acclaim or commercial recognition. The grant is intended to give recipients the opportunity to produce new work and continue their development.
Brendan Fernandes (b. 1979, Nairobi, Kenya) is an internationally recognized Canadian artist working at the intersection of dance and visual arts. Currently based out of Chicago, Brendan's projects address issues of race, queer culture, migration, protest and other forms of collective movement. Always looking to create new spaces and new forms of agency, Brendan's projects take on hybrid forms: part Ballet, part queer dance hall, part political protest...always rooted in collaboration and fostering solidarity. Brendan is a graduate of the Whitney Independent Study Program (2007) and a recipient of a Robert Rauschenberg Fellowship (2014). In 2010, he was shortlisted for the Sobey Art Award, and is the recipient of a prestigious 2017 Canada Council New Chapters grant. Brendan is also the recipient of the Artadia Award (2019), a Smithsonian Artist Research Fellowship (2020) and a Louis Comfort Tiffany Foundation grant (2019). His projects have shown at the 2019 Whitney Biennial (New York); the Solomon R. Guggenheim Museum (New York); the Museum of Modern Art (New York); The Getty Museum (Los Angeles); the National Gallery of Canada (Ottawa); MAC (Montreal); among a great many others. He is currently artist-in-residency and faculty at Northwestern University and represented by Monique Meloche Gallery in Chicago. Recent and upcoming projects include performances and solo presentations at the Noguchi Museum (New York); Monique Meloche Gallery (Chicago); the Art Gallery of Ontario (Toronto); and the Museo De Arte São Paulo (São Paulo). Brendan joined the faculty of the Department of Art Theory and Practice in 2016.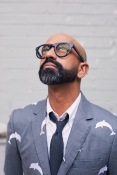 ,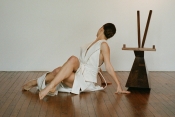 ,