Ligia Lewis,
2020
Ligia Lewis (b. 1983 Santo Domingo, Dominican Republic) works as a choreographer, director, dancer, and performer. Through choreography and an embodied practice, she develops expressive concepts that give form to movements, speech, affects, thoughts, relations, utterances, and the bodies that hold them. Her choreographic work slides between the familiar and the unfamiliar. Held together by the logic of interdependence, disorder, and play, she creates space(s) for the emergent and the indeterminate while tending to the mundane. In her work sonic and visual metaphors meet the body, materializing the enigmatic, the poetic, and the dissonant.
Her recent performance trilogy includes Water Will (in Melody) (2018), a gothic tale set in black and white; minor matter (2016), a poetic work illuminated by red; and Sorrow Swag (2014), presented in a saturated blue. Her other works include: Sensation 1/This Interior (High Line Commission, 2019); so something happened, get over it; no, nothing happened, get with it (Jaou Tunis, 2018); Melancholy: A White Mellow Drama (Flax Fahrenheit, Palais de Tokyo, 2015); $$$ (Tanz im August, 2012); and Sensation 1 (sommer.bar, Tanz im August, 2011 and Basel Liste, 2014). She recently produced her latest work, deader than dead (2020), for Made in LA Biennial at the Hammer Museum, where Lewis created a film as a document of her latest performance piece.
Lewis is the recipient of a Foundation for Contemporary Arts Grants Award (2018); a Bessie Award for Outstanding Production for minor matter (2017); a Factory Artist residency at tanzhaus nrw (2017-19); funding from the Berlin Senate Department for Culture and Europe (2017-18); and a Prix Jardin d' Europe from ImPulsTanz for Sorrow Swag (2015). Lewis' stage works are managed and produced, in part, by HAU Hebbel am Ufer Theater. In 2019, Lewis was the Alma M. Hawkins Memorial Chair at UCLA's World Arts and Cultures Department for the Fall Quarter. Lewis's work continues to be presented internationally.
Lewis is currently developing her latest stage work, Still Not Still, with a premiere in Spring 2021.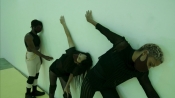 ,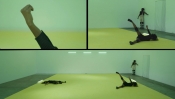 ,