Iñigo Manglano-Ovalle,
2004, 2010
Iñigo Manglano-Ovalle (b. 1961, Madrid, Spain) received a B.A. from Williams College in Williamstown, MA, and an M.F.A. from The School of The Art Institute of Chicago. His noted film trilogy Le Baiser/The Kiss (1999), Climate (2000), and In Ordinary Time (2001) focuses on the architecture of Mies van der Rohe and the implications of Modernism. Solo exhibitions include: The Art Institute of Chicago; The Krefeld Suite, Museum Haus Esters and Haus Lange, Krefend, Germany; El Museo de Arte Contemporáneo de Monterrey and Museo Tamayo Arte Contemporaneo, Mexico City; Barcelona Pavilion, Fundación Mies van der Rohe, Barcelona, Spain; and Museum of Contemporary Art, Chicago, among others.
Group exhibitions include: Bienal de São Paulo, São Paulo, Brazil; InSITE, San Diego; Tempo, Museum of Modern Art, New York; Moving Pictures, Solomon R. Guggenheim Museum, New York and Guggenheim Museum, Bilbao, Spain; The Whitney Biennial, Whitney Museum of American Art, New York; Liverpool Biennial, Liverpool, England, and Documenta 12, Kassel, Germany. He has received a National Endowment for the Arts fellowship, the Media Arts Award from the Wexner Center for the Arts, the John D. and Catherine T. MacArthur Foundation Fellowship, and a John Simon Guggenheim Foundation Fellowship.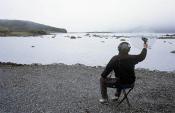 ,