Giuseppe Penone,
2018
Giuseppe Penone started working professionally in 1968 in the Garessio forest, near where he was born, in Italy. He is the younger member of the Italian movement named "Arte Povera", a term that was coined by Germano Celant. Penone's work is concerned with establishing a contact between man and nature.
His sculptures, installations and drawings have always been distinguished by his radical choice of unconventional materials and use of processes that are an integral part of his work. Each work reaches completion through the assimilation of its actions to those of the natural elements and grows out of reflection that adhere closely to the concrete, visual, tactile and olfactory qualities of the materials, explored by the artistic ways that bring out their magical and fantastic groundwork.
The tree, a living organism, in appearance so closely resembling the human figure, is a central element in Penone's work. Many of the procedures he adopts in the creation of his works are based on the act of relating different entities and forces, hence on traces or memories of the contacts between them.
In Penone's work, above all its more recent developments, the opposed concepts of identità ("identity") and identicità ("analogy") are assimilated according to a logic that is not extraneous to the Italian language, as in other European languages in which the two cognate words share the same etymon. The assimilation is shown in the process by which the artist emphasizes similar behaviors that belong to different entities by fossilizing them in a form. As a result, images are created that are capable of making the thoughts and imagination of those who observe them flow from one material to another, from one subject to another, from an animal body to a vegetable or mineral body.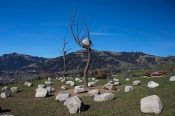 ,