Sherwin Ovid,
Assistant Professor of Instruction, Advisor to the Minor,
Channeling concepts of cultural transmission through the movement of mixed media, Sherwin Ovid draws from the experience of immigration as a space of contingent exchange. A morphology of forms encompass the dynamic interplay of material; curiosity forged as a visual bricolage that makes virtuous the implicitly uneven similitude of diasporic phenomena. Domestic spaces of leisure yield a plethora of objects in his study of migratory aesthetics, invoking class aspirations that fuse ornament and heirloom. Pigment, cotton, resin, dirt, are but a few of the cumalitive ingredients that entice us to the surfaces of his work. However, a melange of narrative idioms underpin the vernacular dexterity of forms that bristles against and along the primacy of formal cohesion.
Ovid received his BFA from the School Art Institute of Chicago (2007) and a Master's of Fine Art from the University of Illinois at Chicago, where he received a Lincoln Fellowship. Ovid has exhibited with Unit 2 Art Collective (Chicago), University of Wisconsin (Milwaukee), Chicago Pop-Up Loop Alliance Gallery and Swimming Pool Project Space (Chicago).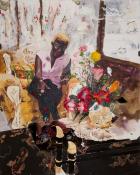 ,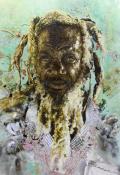 ,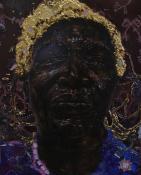 ,