Michael Rakowitz,
Alice Welsh Skilling Professor of Art,
Based between Chicago and New York City, Michael Rakowitz is an Iraqi-American conceptual artist who operates within art spaces and beyond them. With his series paraSITE, Rakowitz built customized, inflatable shelters for the homeless using a mere budget of $5.00 for plastic bags and waterproof tape for each project, and the exterior vents of buildings for heat. In Return, produced by Creative Time in 2004, Rakowitz reopened his grandfather's import and export business, Davison's & Co., which first operated in Baghdad and then relocated to New York when his family was exiled in 1946.

Rakowitz's resurrected family business offered free shipping to Iraq three months after the U.S. declared stifling trade restrictions on the country. Spoils of 2011, another Rakowitz and Creative Time collaboration, took a more provocative and personal approach to American-Iraqi relations. Housed at Park Avenue Autumn restaurant, the "culinary/art experience" provided patrons with rich traditional Iraqi dishes served on rare pieces of fine China from Saddam Hussein's personal collection. More surprising than the sensory tensions experienced by each diner, notably the contrast between the "sweetness of the Iraqi date syrup, and the…bitter provenance of the dishware," was the dramatic conclusion of the project. A cease-and-desist letter from the State Department calling for the "surrender" of the plates abruptly ended Spoils, and resulted in their return to Iraqi territory. It was, according to Rakowitz, a "kind of perfect" ending to the project.
michaelrakowitz.com,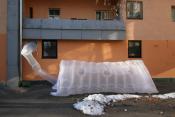 ,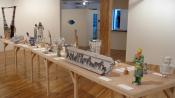 ,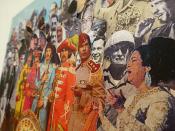 ,