Judy Ledgerwood,
Alice Welsh Skilling Professor of Art,
Judy Ledgerwood is a painter whose canvases and wall painting installations confront the history of abstract painting. Her work simultaneously considers domestically created decorative work made by women across cultures. Compositions consist of motifs that are derived from symbolic shapes associated with Paleo and Neolithic Goddess cultures throughout Europe. The vocabulary of shapes featured in her work is comprised of circles, quatrefoils, and a seed-like shape organized within triangles and chevrons that she perceives as womanly ciphers symbolic of feminine power.
Born in 1959, Ledgerwood lives and works in Chicago, Illinois. She received a BFA from the Art Academy of Cincinnati and a MFA from the School of the Art Institute of Chicago. She has held numerous solo exhibitions worldwide, most recently at Tracy Williams Ltd, New York, NY (2016); Barbara Davis Gallery, Houston, TX (2015); Hausler Contemporary, Austria (2015); The Graham Foundation, Chicago, IL (2014); Smart Museum of Art, Chicago, IL (2014); Rhona Hoffman Gallery, Chicago, IL (2013); among many others. She is the recipient of several awards including The Richard H. Driehaus Foundation Award, an Artadia Award, a Tiffany Award in the Visual Arts, a National Endowment for the Arts Award, and an Illinois Art Council Award. Her work is included in prominent public collections including the Art Institute of Chicago, IL, the Metropolitan Museum of Art, New York, the Museum of Contemporary Art Los Angeles, the Milwaukee Museum of Art, the Museum of Contemporary Art Chicago, and the Kunstmuseum St. Gallen Switzerland, among others. In 2015, Ledgerwood was commissioned by the Embassy of the United States in Vientiane, Laos to create a monumental site-specific painting. Her major monograph, Judy Ledgerwood, published by Hatje Cantz in 2009 is available on Amazon.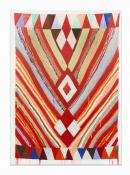 ,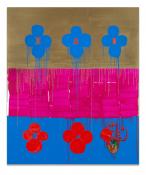 ,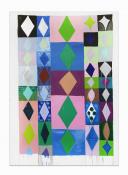 ,