Without Sky
Andrew Falkowski, Judy Ledgerwood, Joe Pflieger & Phillip Vanderhyden
@ Julius Caesar Opening May 20, 6 - 9, runs through June 11
"The marshals of the four coalitions chose our sky for their decisive battle because the sky over our village was the best in the world: calm and cloudless. The sun flowed through our sky like a wide, peaceful river. I remember them well, the sun and the sky. The marshals found this place ideal for the final battle. It's not surprising."
An excerpt from Without Sky by Natan Dubovitsky
Natan Dubovitsky is the pen name of Vladislov Surkov, the architect of Vladimir Putin's "Non Linear War," a steady-state information attack on western democracy. The disillusion of shared consensus is a main objective. Pensive paranoia is another.
The scrambled esthetic of "non linear war" is a contradistinction to late modernism's reductive "clarity." Both presume hierarchy through efficient platforms of universality. Both can be seen as perversely attractive in their conviction, depending how you see it. Both can be integrated into target practice.
Recursive graphic motifs seduce with endless iteration and flexible disposability. They confirm themselves with self-reflexive repetition.
In fetishizing the mechanisms that occupy perception in its various guises, perhaps one can inhabit fear and loathing's abstract design.
Same Shit Different Day/Don't Worry Be Happy.
DATES & LOCATIONS,
Saturday, May 20, 6pm
Julius Caesar
3311 W. Carroll Ave
Chicago, IL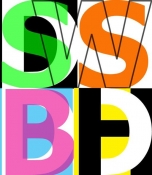 ,