Visiting Artist Talk: Lisa Sigal
ATP welcomes Lisa Sigal as part of our fall visiting artist series.
Lisa Sigal is an artist and educator based in Brooklyn. Her work encompasses painting, sculpture, socially-engaged projects, curating, and public art. Over the last three decades, she has exhibited in galleries and institutions in North America, Europe, and Asia. With Nova Benway, Sigal was a co-founder of Open Sessions at the Drawing Center, an initiative that offers support and exhibition space to early-career artists. With Byron Kim, she now co-directs the Yale Norfolk School of Art, a summer residency program in Norfolk, CT.
DATES & LOCATIONS,
Wednesday, October 18, 5pm
at FORUM ROOM
KRESGE HALL 1515
1880 CAMPUS DRIVE
EVANSTON, IL 60208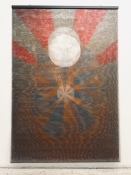 ,