Visiting Artist Talk: Helen Mirra
Helen Mirra is a walking experiment.
Along the way she undertakes to meet materials and non-materials.
She has been a guest of the DAAD Kunstlerprogramm in Berlin, the Laurenz Haus in Basel, IASPIS in Stockholm, and OCA in Oslo, a fellow at the MacDowell Colony and Civitella Ranieri, and artist-in-residence with the Consortium of the Arts at the University of California at Berkeley, the Center for Book Arts at Mills College, and the Isabella Stewart Gardner Museum. She has received awards from the Louis Comfort Tiffany Foundation, the Driehaus Foundation, and Artadia. She was a Loeb Associate Professor of the Humanities at Harvard University and a Senior Lecturer at the University of Chicago with the Committees of Visual Art and Cinema & Media Studies.
Long-term subjects of particular interest include rocks, and current particular subjects of interest include slopes and other angles.
DATES & LOCATIONS,
Thursday, April 19, 5pm
at KRESGE HALL 1319
1880 CAMPUS DR
EVANSTON, IL, 60208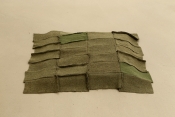 ,