Visiting Artist Talk: Diane Simpson
Diane Simpson, born 1935, is a Chicago-based artist who for the past forty years has created sculptures and preparatory drawings that evolve from a diverse range of sources, including clothing, utilitarian objects, and architecture. The structures of clothing forms has continuously informed her work, serving as a vehicle for exploring their visually formal qualities, while also revealing their connections to the design and architecture of various cultures and periods in history. Her wide selection of materials (wood, perforated metals, linoleum, fabrics ) reflect her interest in the coexistence of the industrial/architectonic and domestic worlds.

She has exhibited widely in the US and abroad; most recently in the 2019 Whitney Biennial. In 2010, a thirty-year retrospective was held at the Chicago Cultural Center, and she has had solo exhibitions at the Museum of Contemporary Art, Chicago, and the Institute of Contemporary Art, Boston. Simpson's work is in the permanent collections of the Whitney Museum of American Art, NY; Art Institute of Chicago; Institute of Contemporary Art, Boston; Museum of Contemporary Art, Chicago; Hessel Museum of Art, Annandale-on-Hudson, New York; Illinois State Museum, Springfield, IL; Perez Museum, Miami, FL; and the Kadist Art Foundation, San Francisco and Paris, FR. She received a BFA in 1971 and an MFA in 1978 from the Art Institute of Chicago. Simpson is represented by Corbett vs Dempsey Gallery, Chicago; JTT Gallery, NY; and Herald St Gallery, London.
DATES & LOCATIONS,
Thursday, January 16, 5pm
at KRESGE HALL
ROOM 1515
1880 CAMPUS DRIVE
EVANSTON, IL 60208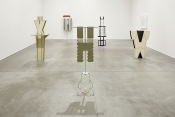 ,