Visiting Artist Talk: Athi-Patra Ruga
Join us for a lunchtime talk with Visiting Artist Athi-Patra Ruga.
Athi-Patra Ruga is one of the few artists working in South Africa today whose work has adopted the trope of myth as a contemporary response to the post-apartheid era. Ruga creates alternative identities and uses these avatars as a way to parody and critique the existing political and social status quo. Ruga's artistic approach of creating myths and alternate realities is in some way an attempt to view the traumas of the last 200 years of colonial history from a place of detachment – at a farsighted distance where wounds can be contemplated outside of personalized grief and subjective defensiveness.
The philosophical allure and allegorical value of utopia has been central to Ruga's practice. His construction of a mythical metaverse populated by characters which he has created and depicted in his work have allowed Ruga to create an interesting space of self reflexivity in which political, cultural and social systems can be critiqued and parodied. Ruga has used his utopia as a lens to process the fraught history of a colonial past, to critique the present and propose a possible humanist vision for the future.
Significant exhibitions and performances include: Kiss My Genders, Haywood Gallery, London; Ravelled Threads, Sean Kelly Gallery, Seattle; Art Afrique, Louis Vuitton Foundation, Paris; Over the Rainbow, Performa 17, New York; An Age of Our Own Making, Holbaek, Denmark; Queer Threads: Crafting Identity and Community, Boston Centre for the Arts, Boston; AFRICA: Architecture, Culture and Identity at the Louisiana Museum of Modern Art; Imaginary Fact at the South African Pavilion, 55th Venice Biennale; African Odysseys at The Brass Artscape in Brussels; Public Intimacy at the SFMOMA, San Francisco; The Film Will Always Be You: South African Artists on Screen at the Tate Modern in London; and Making Africa at the Guggenheim Museum Bilbao.
Recent projects include Ruga's collaboration with Dior on designing two handbags for the fourth edition of the Lady Dior Art Bag. Ruga is also the co-founder of Victory of the Word, a fundraising and development project in support of the historic Lovedale Printing Press in Alice, Eastern Cape, as well as the Artistic Director of BODYLAND, an incubator residency for artists held in the Amathole Village, Hogsback.
His works form part of Private, Public and Museum Collections in South Africa and abroad, namely: the Smithsonian Museum of African Art, Washington DC; the Foundation Louis Vuitton, Paris; Fondation Gandur pour l'Art, Geneva; The Zeitz MOCCA, Cape Town; Museion – Museum of Modern and Contemporary Art, Bolzano Italy; CAAC – Pigozzi Collection; The Wedge Collection; and the IZIKO South African National Gallery.
DATES & LOCATIONS,
Monday, April 10, 12pm
at FORUM ROOM
KRESGE HALL 1515
1880 CAMPUS DRIVE
EVANSTON, IL 60208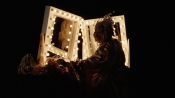 ,