Visiting Artist Talk: Amy Sillman
Amy Sillman (born in 1955 in Detroit, MI) grew up in the Midwest, but has been based in New York City since 1975. Primarily known as a painter, her process is drawing-based, and weaves together many side interests, such as animation and writing. She aims for an approach to painting that is at once materialist and discursive, articulate and curious. Her work has been widely shown and collected at private and public institutions in the US and Europe, including MoMA, The Met, The Whitney, LA MoCA, Portikus in Frankfurt, Lenbachhaus and the Brandhorst Museum in Munich, the Moderna Museet in Stockholm, and The Tate Modern, London. She has been the recipient of many awards including a Guggenheim in 2001 and a Fellowship at The American Academy in Rome in 2014. Sillman's traveling mid-career survey show "one lump or two," curated by Helen Molesworth, opened at the ICA Boston in 2013. Sillman received a BFA from The School of Visual Art in NYC in 1979, and an MFA from Bard College's MFA Program in 1995. Sillman currently holds a position as Professor at the Staedelschule in Frankfurt, Germany.
Amy Sillman: The Nervous System will be at The Arts Club of Chicago May 22nd through August 3rd, with an opening reception on May 22nd at 6pm.
DATES & LOCATIONS,
Friday, May 17, 12pm
at Kresge 1305
1880 Campus Dr
Evanston, IL, 60208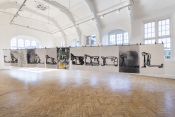 ,