Chicago Architecture Biennial: Abraham Cruzvillegas
Abraham Cruzvillegas (b. 1968) is one of the most important conceptual artists of his generation to come out of the vibrant art and architecture scene in Mexico. Over the past 15 years, Cruzvillegas has developed a riveting body of architectural constructions that investigates what he calls autoconstrucción, or "self-construction," a platform for architectural work informed by the sociopolitical contexts of Latin America and inspired by improvised building materials and techniques.
In conjunction with the 2017 Chicago Architecture Biennial Cruzvillegas will speak about a new series of work, The Water Trilogy, which comprises a set of exhibitions in Paris, Tokyo and Rotterdam. The constructions within The Water Trilogy focuses on water in urban contexts, including specific issues of pollution and water shortage.
Presented in partnership with the Northwestern McCormick School of Engineering and the Northwestern Block Museum of Art
DATES & LOCATIONS,
Wednesday, October 25, 6pm
at BLOCK MUSEUM OF ART
40 ARTS CIRCLE DR
EVANSTON, IL, 60202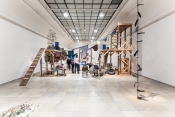 ,