Mel Cook,
Mel Cook is a visual artist living and working in Chicago, Illinois. Her work explores the relationship between language and femme bodies being pushed up against systems of (re)production. Charting the ever expanding constellation of misogyny her work seeks to create new trajectories for thinking and making within the field of painting. She received her BFA from Bowling Green State University (2009) and her MFA from Illinois State University (2012).
Her solo and two person exhibitions include I NEED A VOICE NOT A BODY at Vital Signs, MKE, Milwaukee, WI (2019), 31 at Yeah Maybe, Minneapolis, MN (2019), Mother of The Clown with Molly Colleen O'Connell at Roots and Culture, Chicago, IL (2018), and We Have a Back Room With Other Things with Megan Stroech at Heaven Gallery, Chicago, IL (2016). Selected group exhibitions include Somebody Told Me You People Were Crazy at Hathaway Gallery, Atlanta, GA (2019), Painting The Figure Now at Wausau Museum of Contemporary Art, Wausau, WI (2019), 4 Acts at Elmhurst Art Museum, Elmhurst, IL (2019) Local Comfort at LVL3, Chicago, IL (2018), The Chicago Show at 56 Downing St., Brooklyn, NY (2018), Women Painting Men at Riverside Arts Center (2018), Winter Romance at Andrew Rafacz Gallery (2018), Nothing Is Ours But Time at the Ukrainian Institute of Modern Art, Chicago, IL (2018), and Unfurnished at Demo Projects, Springfield, IL (2017).
Cook has been an artist in residence at Lazuli Residency, Corinth, VT (2019), The Ace Hotel, Chicago, IL (2019), Illinois State University, Normal, IL (2018), ACRE, Steuben, WI (2017), Skowhegan School of Painting and Sculpture, Skowhegan, ME (2016), and The Center Program at Hyde Park Arts Center, Chicago, IL (2016). Public Collections include The Joan Flasch Artist Book Collection at The School of The Art Institute of Chicago, Chicago, IL, The Polsinelli Art Collection, New York, NY, and David Beitzel Fine Arts, New York, NY. Cook's work has been featured and reviewed in The Chicago Tribune, Artsy, Chicago Woman Magazine, Artnet News, Vagabond City Lit, and New American Paintings.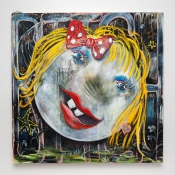 ,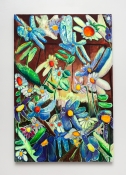 ,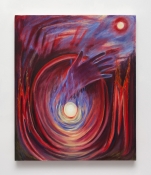 ,