Carolyn Christov-Bakargiev,
Edith Kreeger Wolf Distinguished Visiting Professor,
Christov-Bakargiev is a curator, author and researcher interested in historical avant-garde and contemporary art. Named 2012's most powerful person in the art world by Art Review's Power 100 listings, Christov-Bakargiev was artistic director of dOCUMENTA(13) from 2008-2012, which took place in Kassel, Germany, and held workshops, seminars and exhibitions in Alexandria, Egypt; Kabul, Afghanistan; and Banff, Canada. Her stewardship of dOCUMENTA(13), considered to be one of the most intellectual and significant exhibitions in the art world, renewed one of the exhibition's primal intentions to enlist culture as an agent of reconstruction, healing and dialogue. She curated the 14th Istanbul Biennial titled Saltwater: A Theory of Forms (2015).
Currently she is the Director of Castello di Rivoli Museo d'Arte Contemporanea and Fondazione Francesco Federico Cerrut in Turin. Previously she has served as Director of GAM Galleria Civica d'Arte Moderna e Contemporanea and Castello di Rivoli Museo d'Arte Contemporanea (2016-17), Artistic Director of the 16th Biennale of Sydney (2008) and Chief Curator at the Castello di Rivoli Museum of Contemporary Art (2002-08). Christov-Bakargiev was also a Senior Curator at P.S. 1 Contemporary Art Center—a MoMa affiliate in New York from 1999-2001. Her books include William Kentridge (1998), Arte Povera (1999), and for dOCUMENTA(13) the 100 Notes–100 Thoughts series as well as The Book of Books (2011–12). Previous group exhibitions include The Moderns, Turin (2003), Faces in the Crowd, London and Turin (2004), Citta' Natura (1997), and Molteplici Culture (1992).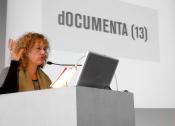 ,